In Search of Wisdom: Life-Changing Truths in the Book of Proverbs
#1 New York Times bestselling author Joyce Meyer takes us on a journey through the wisdom of Proverbs to leave us transformed and equipped to face daily choices and challenges.
The book of Proverbs is a treasure trove of both spiritual and practical wisdom that gives us what we need to guide our steps each and every day. Knowledge is important, but if it isn't turned into action, it fails to help us on an earthly level. Because of this, it is important to gain understanding of the seven foundational principles frequently seen in Proverbs:
Wisdom,
Understanding,
Prudence,
Knowledge,
Discretion,
Discernment, and
Fear of the Lord.
If we desire to have these qualities, we must make a commitment to slow down. We will need to stop multi-tasking and learn to enjoy times of solitude and blessed quiet. We must give sincere thought regarding action to be taken, remembering that each action produces a result.
Featuring inspiring questions and space for thoughtful reflection,
In Search of Wisdom
will enlighten you with God's understanding and teach you the foundational principles and secure God's help in practicing them.
My Thoughts:
In Search of Wisdom by Joyce Meyers is a great book with practical wisdom to the reader on gaining understanding from the book of Proverbs. It is simple, profound and truthful. This book is life changing for the reader as you sink into the truths of God's word from this book. Joyce emphasizes how wisdom is important for living a Godly life. I think this book is so important to any readers collection as you apply the wisdom of Proverbs to your life. This book is powerful and I highly recommend it.
About the Author:
Joyce Meyer is one of the world's leading practical Bible teachers. A New York Times bestselling author, Joyce's books have helped millions of people find hope and restoration through Jesus Christ. Through Joyce Meyer Ministries, Joyce teaches on a number of topics with a particular focus on how the Word of God applies to our everyday lives. Her candid communication style allows her to share openly and practically about her experiences so others can apply what she has learned to their lives.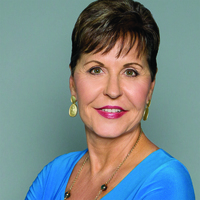 Joyce's programs, Enjoying Everyday Life and Everyday Answers with Joyce Meyer, can be seen around the world through television, radio, and the Internet. Joyce has authored more than 100 books, which have been translated into more than 100 languages and over 65 million of her books have been distributed worldwide. She teaches in cities across America as well as internationally. Joyce Meyer Ministries has offices in nine countries.
Joyce's passion to help hurting people is foundational to the vision of Hand of Hope, the missions arm of Joyce Meyer Ministries. Hand of Hope provides worldwide humanitarian outreaches such as feeding programs, medical care, orphanages, disaster response, human trafficking intervention and rehabilitation, and much more – always sharing the love and Gospel of Christ.