Hardcover:

256 pages

Publisher:

Thomas Nelson (June 23, 2020)
From New York Times bestselling author Bob Goff, the creator of the popular Dream Big conferences, a wildly inspiring yet utterly practical blueprint for helping readers find and reach their biggest dreams.
Bob Goff is on a mission to shake people into the version of their lives they dreamt about before someone told them it was impossible or incorrect. He wants people to reconnect with the seat of their passion and their person. He wants them to dream big.
In this revelatory new book, Goff takes readers on a life-proven journey to rediscover their dreams and turn them into reality. Based on his popular Dream Big workshop, Bob draws on a lifetime of living and dreaming large to help guide readers to reaching their larger-than-life dreams. In Dream Big he shows us how to:
learn to define clearly your dreams for yourself,
identify the obstacles holding you back,
come up with a specific plan for reaching goals, and
develop the tools that will help you act on the plan.
Dream Big is the only book you need to uncover the wild and exciting dream for your life you've hidden from yourself–and help you take the steps necessary to achieve it.
My Thoughts:
Bob Goff fans, go to Amazon right now and order this book. You won't be disappointed at all. This book is fantastic! This book has changed how I view my faith and walking with the Lord.
Most people who follow Jesus daily do not like to be confronted with the uncomfortable, but that is the crux of following Jesus. He doesn't call us to be comfortable, but he calls us to experience a life fully dependent on him.
While reading Dream Big, I was inspired by Bob to just do that. It will literally encourage you to go full force into something that is messy, frustrating and exciting all in one. I was very encouraged by this book and love how Bob talked about with every book he has written, he wrote a 1000 words a day. I love his advice in finishing projects like this. Additionally, this book continued to spark and challenge my view on the church today and how it is bigger than just a building. The church is its people. We need to stop making it about events and start making the church about glorifying the Lord, not ourselves. This book was very eyeopening.
Overall, this book was encouraging, inspiring and hard because it challenged my thinking, which I LOVE! This book will help you live on the dream that God has put inside of you. Grab your copy today, you will be sad to have missed it.

Purchase Links
About Bob Goff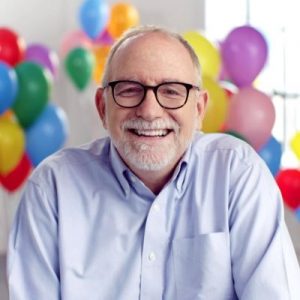 Bob Goff is the author of the
New York Times
bestselling
Love Does
and
Everybody, Always
as well as the bestselling
Love Does for Kids
. He is the Honorary Consul to the Republic of Uganda, an attorney, and the founder of Love Does—a nonprofit human rights organization operating in Uganda, India, Nepal, Iraq, and Somalia. He's a lover of balloons, cake pops, and helping people pursue their big dreams. Bob's greatest ambitions in life are to love others, do stuff, and, most importantly, to hold hands with his wife, Sweet Maria Goff, and spend time with their amazing kids.
Connect with Bob