Publisher
: Thomas Nelson (August 2, 2020)
A jilted bride. A struggling innkeeper. And a romantic mountain getaway that changes everything
Rising Hollywood star Mia Emerson is looking for a safe place to land in the wake of a public breakup and celebrity scandal, and she finds it in the lake town of Bluebell, North Carolina—the location of her canceled honeymoon. She wants nothing more than to hide and wait for the tabloids to die down.
Soon after her arrival at the Bluebell Inn, Mia meets Levi Bennett, who runs the inn along with his two younger sisters. Drawn to one another from the start, Mia trusts Levi to keep her location from the press, and Levi confides in Mia about the precarious financial state of the inn—a secret he's been keeping from his sisters.
When Mia and Levi discover an old journal that hints at a rare diamond necklace hidden in the inn, they set off on a treasure hunt to find the long-lost heirloom. What they don't expect to surface are feelings they thought were safely locked away. Mia and Levi must decide if falling in love again is too big a risk—or if it will uncover a treasure of its own instead.

Purchase Links
My Thoughts:
If have never read a Denise Hunter novel, I recommend going to Amazon and purchasing one immediately. Carolina Breeze was a beautiful contemporary romance book that I could not put down. I finished this book in one setting and was up way to late, but it was so good! Denise Hunter has the ability to take each novel and make it better than the last, especially as she writes books in a series. However, this book can be read as a standalone. I love the premise of this novel with Mia Emerson needing a place to escape where the media isn't able to follow her. She is kept in secret by Levi and his sisters, at the Blue Bell Inn. This book also has a bit of mystery intwined in a budding romance. I simply could not put this book down! Grab a copy today!
About Denise Hunter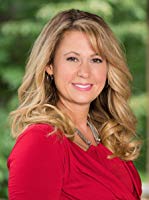 Denise Hunter is the internationally published bestselling author of more than 25 books, including
A December Bride
and
The Convenient Groom
, which have been adapted into original Hallmark Channel movies. She has won The Holt Medallion Award, The Reader's Choice Award, The Carol Award, The Foreword Book of the Year Award, and is a RITA finalist. When Denise isn't orchestrating love lives on the written page, she enjoys traveling with her family, drinking green tea, and playing drums. Denise makes her home in Indiana where she and her husband are rapidly approaching an empty nest.
Connect with Denise