The Everyday Life Psalms and Proverbs, Platinum: The Power of God's Word for Everyday Living
This beautifully bound compilation of the Old Testament poetical books, Psalms and Proverbs, includes new insights from Joyce Meyer and powerful commentary drawn from The Everyday Life Bible.

A perfect gift for yourself or someone you love, this gorgeously packaged book includes the poetic wisdom of Proverbs and Psalms. It will offer comfort and peace through the power of Scripture, along with insights drawn from #1 New York Times bestselling author Joyce Meyer. Readers will be inspired and empowered to change their thoughts and their lives.
In the decade since its original publication, The Everyday Life Bible has sold 1.1 million copies, taking its place as an invaluable resource on the Word of God. Simultaneously, Joyce Meyer's renown as one of the world's leading practical Bible teachers has grown, as she continues to study and teach daily. This new edition updates Joyce's notes and commentary to reflect the changes made in the revision of the Amplified Bible which refreshes the English and refines the amplification for relevance and clarity. The result is THE EVERYDAY LIFE PSALMS AND PROVERBS that is now easier to read and better than ever to study, understand, and apply to your everyday life.
The Everyday Life Psalms and Proverbs, Platinum edition is a true treasure. I love reading Proverbs and Psalms from this little book that I can stick in my purse. This little Bible contains some awesome pointers from Joyce Meyer. They are short, little snippets that help you think and even encourage you to a deeper understanding of God's word. I also love the questions that help me think about what the Bible is saying and then to act on his word. This is such a special little book in the AMP translation.
I love the platinum cover edition of this Bible. It has a silver ribbon marker, which I am also super thankful for. It is smaller than a devotional, so it's perfect for my purse or back. I have been throwing it in my bag when I go to the store and need a boost of God's word after going through the emotional distress of shopping. I've been reading it outside too.. This is just a nice tool, and would be perfect for the graduate.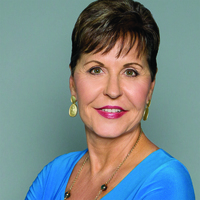 Joyce Meyer is one of the world's leading practical Bible teachers. A New York Times bestselling author, Joyce's books have helped millions of people find hope and restoration through Jesus Christ. Through Joyce Meyer Ministries, Joyce teaches on a number of topics with a particular focus on how the Word of God applies to our everyday lives. Her candid communication style allows her to share openly and practically about her experiences so others can apply what she has learned to their lives.
Joyce's programs, Enjoying Everyday Life and Everyday Answers with Joyce Meyer, can be seen around the world through television, radio, and the Internet. Joyce has authored more than 100 books, which have been translated into more than 100 languages and over 65 million of her books have been distributed worldwide. She teaches in cities across America as well as internationally. Joyce Meyer Ministries has offices in nine countries.