Galatians: A Biblical Study
Walk the path of holiness, stir your faith in God, and break free from the bonds of a sinful nature with Joyce Meyer's Galatians commentary, featuring inspiring questions and space for your reflections.
Paul's letter to the church at Galatia speaks largely to how important it was to Paul that the people embrace unity in Christ, no matter their differences. Galatians teaches that we're justified by faith in Christ only and encourages us to pursue a life of holiness, not in our own strength, but in the knowledge of God's empowering grace in our lives.
In this comprehensive study tool, Joyce Meyer offers an in-depth look at Galatians and emphasizes that we are not only saved by faith, we must learn to live by faith as well.
My Thoughts:
Do you study God's word, but aren't really sure what you're studying or maybe struggle with staying guided in His word? Galatians is a great commentary Bible Study and tool that helps the reader live on the Bible in practical ways. This book has space for you to record your notes, thoughts, or prayers as you read the book of Galatians. This study is a fantastic tool whether you are new to the Christian faith or you have been in a relationship with the Lord for years. You will grow in your walk and learn so much more about the Bible!
About the Author: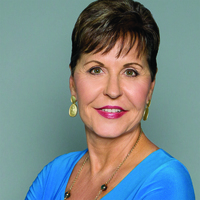 Joyce Meyer is one of the world's leading practical Bible teachers. A New York Times bestselling author, Joyce's books have helped millions of people find hope and restoration through Jesus Christ. Through Joyce Meyer Ministries, Joyce teaches on a number of topics with a particular focus on how the Word of God applies to our everyday lives. Her candid communication style allows her to share openly and practically about her experiences so others can apply what she has learned to their lives.
Joyce's programs, Enjoying Everyday Life and Everyday Answers with Joyce Meyer, can be seen around the world through television, radio, and the Internet. Joyce has authored more than 100 books, which have been translated into more than 100 languages and over 65 million of her books have been distributed worldwide. She teaches in cities across America as well as internationally. Joyce Meyer Ministries has offices in nine countries.
Joyce's passion to help hurting people is foundational to the vision of Hand of Hope, the missions arm of Joyce Meyer Ministries. Hand of Hope provides worldwide humanitarian outreaches such as feeding programs, medical care, orphanages, disaster response, human trafficking intervention and rehabilitation, and much more – always sharing the love and Gospel of Christ.