Your Battles Belong to the Lord: Know Your Enemy and Be More Than a Conqueror
About:
Put on the armor of God, conquer your problems, and know your real enemy with renowned Bible teacher and New York Times bestselling author, Joyce Meyer.
Have you ever felt you tried every solution on earth to solve a problem, but nothing worked? Have you ever wondered where the difficulties you face are coming from? Joyce Meyer has answers.

In Your Battles Belong to the Lord, Meyer explains that while some problems may result from a person's choices or circumstances, others are rooted in the spiritual realm. Once you recognize the devil--who is real and active in the world today--as your true enemy and the source of many of your struggles, you can overcome them and live a life of peace, freedom, faith and victory. When facing life's battles, there are certain things you must do for yourself, such as:

Diligently studying and applying God's Word
Trusting Him
Praying
Maintaining a positive attitude and thankful heart

But there are other things only God can do. When you do your part, God does His-and He is always ready and eager to defend you and help you.

Each chapter of the book helps you understand how the enemy operates and learn to counter his schemes and strategies so you can live at a new level of strength. Chapter titles include: "Know Your Enemy," "Eliminate Fear," "How the Devil Tries to Deceive People," "Hold Your Peace," "The Power of a Thankful Life," and "Internal Rest."

In this fresh approach to the subject of spiritual warfare, Meyer focuses not only on the nature and strategies of the enemy, but also on the power and love of God, who always defeats the enemy and leads you to triumph. No matter how difficult your challenges are, if you have God with you, you have all you need to win every battle.
Your Battles Belong to the Lord by Joyce Meyer is a book that helps the reader understand who and what their enemy is. Joyce is known for taking truth and breaking them down into into bite size chunks, which she does, wonderfully! She makes it easy for the reader to understand how the devil will go after believers confidence, peace, hope, patience and love.
She takes the book and breaks it down into four promises that the reader is able to pray through on a daily basis, which is something that God has been working through me on. Working through the ways the enemy attacks us in prayer, is huge. God is fighting on our behalf in His time.
This book is also about filling her mind with the truth and to let God fight our battle. How many of us try to fight our own battle? I know I have. I will try to control it, instead of seeking the truth and let God take care of it instead.
This book is so very good and has been very helpful, especially with the season of life I am. I am in a battle, but knowing where to find the enemy, has been super helpful. The enemy is tricky, but he doesn't win. I recommend this book for a small group, a study with friends or even as a gift! I really enjoyed this book.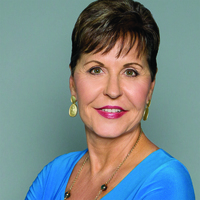 Joyce Meyer is one of the world's leading practical Bible teachers. A New York Times bestselling author, Joyce's books have helped millions of people find hope and restoration through Jesus Christ. Through Joyce Meyer Ministries, Joyce teaches on a number of topics with a particular focus on how the Word of God applies to our everyday lives. Her candid communication style allows her to share openly and practically about her experiences so others can apply what she has learned to their lives.
Joyce's programs, Enjoying Everyday Life and Everyday Answers with Joyce Meyer, can be seen around the world through television, radio, and the Internet. Joyce has authored more than 100 books, which have been translated into more than 100 languages and over 65 million of her books have been distributed worldwide. She teaches in cities across America as well as internationally. Joyce Meyer Ministries has offices in nine countries.
Joyce's passion to help hurting people is foundational to the vision of Hand of Hope, the missions arm of Joyce Meyer Ministries. Hand of Hope provides worldwide humanitarian outreaches such as feeding programs, medical care, orphanages, disaster response, human trafficking intervention and rehabilitation, and much more – always sharing the love and Gospel of Christ.