The Brides of the Big Valley: 3 Romances from a Unique Pennsylvania Amish Community

by
3 Short Stories of Love in a Unique Amish Community
In an area of Pennsylvania called The Big Valley, a uniquely blended Amish community thrives in which 3 distinct groups of Amish identify themselves by the colors of their buggy's top—white, black, or yellow. Join
New York Times
Bestselling Author Wanda E. Brunstetter, her daughter-in-law, and granddaughter in experiencing the stories of three young women who search for faith and love within this special place. Deanna is a widow who sees her second chance of love slipping away. Rose Mary is at a point in life where she must choose the path of her faith and the right man to walk with her on it. Leila is burdened with family responsibilities and wonders when she will ever start a family of her own.
If you have never read any books by Wanda E. Brunsetetter, but love Amish fiction novels, I highly recommend you picking up any of her novels. All of her book are great and have elements of faith and family tied into her stories. The Bride of Big Valley are three Amish Romance stories featuring three different Amish groups living in Mifflin, Pennsylvania. The
three groups have practices that set themselves apart from one another. This book is composed of three novellas written by Wanda, her daughter in law and granddaughter. All three novella are captivating and quick reads. From Widows, to characters dealing with insecurities and overcoming fear, all three of these stories are great reads! The three Brunstetter ladies have written a great novella collection that you will enjoy. Christian amish romance fans will adore this collection.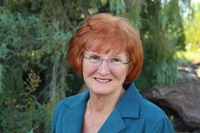 New York Times bestselling and award-winning author, Wanda E. Brunstetter is one of the founders of the Amish fiction genre. She has written close to 90 books translated in four languages. With over 10 million copies sold, Wanda's stories consistently earn spots on the nations most prestigious bestseller lists and have received numerous awards.
Wanda's ancestors were part of the Anabaptist faith, and her novels are based on personal research intended to accurately portray the Amish way of life. Her books are well-read and trusted by many Amish, who credit her for giving readers a deeper understanding of the people and their customs.
When Wanda visits her Amish friends, she finds herself drawn to their peaceful lifestyle, sincerity, and close family ties. Wanda enjoys photography, ventriloquism, gardening, bird-watching, beachcombing, and spending time with her family. She and her husband, Richard, have been blessed with two grown children, six grandchildren, and two great-grandchildren.