Goodreads:
Murder in the City of Liberty (Van Buren and DeLuca #2) by Rachel McMillan
Rating: Just Okay
Source: Blog Tour

Description:
Determined to make a life for herself, Regina "Reggie" Van Buren bid goodbye to fine china and the man her parents expected her to marry and escaped to Boston. What she never expected to discover was that an unknown talent for sleuthing would develop into a business partnership with the handsome, yet shy, Hamish DeLuca.
Their latest case arrives when Errol Parker, the leading base stealer in the Boston farm leagues, hires Hamish and Reggie to investigate what the Boston police shove off as a series of harmless pranks. Errol believes these are hate crimes linked to the outbreak of war in Europe, and he's afraid for his life. Hamish and Reggie quickly find themselves in the midst of an escalating series of crimes that seem to link Boston to Hamish's hometown of Toronto.
When an act of violence hits too close to home, Hamish is driven to a decision that may sever him from Reggie forever . . . even more than her engagement to wealthy architect Vaughan Vanderlaan.
Purchase Links
Connect with Rachel
Murder in the City of Liberty by Rachel McMillan is a historical mystery. I have read several books by Rachel before and love them. This book, did not do it for me. I had a difficult time connecting to the mystery and also keeping the characters straight. This book has an awesome setting and started off with some actions, but as I progressed forward into the plot, I found myself day dreaming and even when I tried to get back to the book, I could not stay with it. The story, with the characters did not connect to me and I could not find myself interested in the book. This book and series might interest you, but it was my taste. Don't take my word on it, grab your copy today and you might love this historical mystery. Again, I have read several books by Rachel before and have loved them. Give this one a shot, despite my review. You might like this book.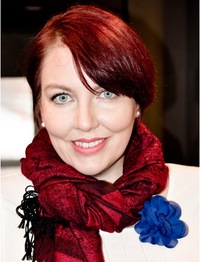 Rachel McMillan is the author of the Herringford and Watts mysteries, the Three Quarter Time series of contemporary romances set in opulent Vienna, and the Van Buren and DeLuca mysteries praised for bringing an authentic 1930's Boston world to life while normalizing the fictional conversation surrounding mental illness. Her first work of non-fiction, described as a romantic's guide to independent travel, releases in 2020. Rachel lives in Toronto, Canada.