On a Summer Tide
(Three Sisters Island #1)
When her father buys an island off the coast of Maine with the hope of breathing new life into it, Camden Grayson thinks hes lost his mind. An unexpected event sends Cam to his rescue, and she discovers the island has its own way of living . . . and loving.
On A Summer Tide is a surprising and enjoyable read by Suzanne Woods Fischer. As someone who has previously read her Amish books, it was great to see her change up the pace into a contemporary novel and she did it with such a natural rhythm, that you never know she is a an amish author. This book is just as catching and grabbing as her amish series are.
On A Summer Tide invites the reader to a beautiful backdrop of Maine where we meet three sister who have very different personalities and a whole of growing to do. Given time, hardwork and some life on the island, the reader soon discovers family bonds. This book is full of humor, romance and even a few twists. Elements of faith are brought into the story and I really enjoyed reading this book.
Overall, I thought this book was a quick read and I found the characters to be very realistic. This book would make a perfect beach read.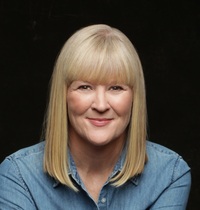 Suzanne Woods Fisher is the bestselling, award winning author of fiction and non-fiction books about the Old Order Amish for Revell Books, host of the radio-show-turned-blog Amish Wisdom, a columnist for Christian Post and Cooking & Such magazine.
Her interest in the Amish began with her grandfather, who was raised Plain. A theme in her books (her life!) is that you don't have to "go Amish" to incorporate the principles of simple living.
Suzanne lives in California with her family and raises puppies for Guide Dogs for the Blind. To her way of thinking, you just can't life too seriously when a puppy is tearing through your house with someone's underwear in its mouth.