Exceedingly: Spiritual Strategies for Living on Purpose, with Purpose, and for an Abundant Purpose
Personal encouragement and inspiration for finding your unique calling
"Am I making a difference?" "Can I accomplish meaningful things despite the mistakes I've made?" "How can I know God's purpose for me?"
As the true stories in
Exceedingly
demonstrate, whether famous or entirely unknown, we all struggle to find significance in our lives. But the truth is that each one of us has a special reason for being right here, right now--and we can discover exactly what that is.
Anita Agers-Brooks walks through simple yet powerful strategies, skills, and exercises to do just that. Through practical application and inspiration from people like the late country music star Troy Gentry, readers will identify and hone their natural traits, raw talents, and untapped abilities. Uncovering our purpose doesn't require big personalities, perfect lives, or an issue-free past. We only have to make the effort to learn to see ourselves as God does and fulfill the personal purpose we were made for.
Seekers who engage with Anita will find their quest leads to one amazing conclusion: if they unearth what they've been given and dare to believe, their Maker will do exceedingly, abundantly more with their lives than they've ever imagined.
Ephesians 3:20 is the verse that the Lord gave my husband this year, so Exceedingly has been the perfect book to read. This book is packed with spiritual truths that help all believers firm their purpose in faith and in life. I enjoyed the chapter on it is important to play. In a life that is busy, stressed out and full, we so often don't take the time to relax and play, but we need to. We need to take the time to spend time giggling, dreaming and enjoying the simple things in life. While this book appears small, it is packed full of good wisdom and truth. I found this book to be incredibly helpful and one that I will read in different seasons. I love that it hits Ephesians 3:20 and it has spoken so much truth to me. I cannot wait for my husband to read it! I highly recommend it!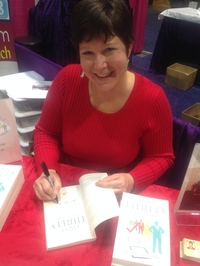 Anita Brooks motivates others to dynamic break-throughs. Blending mind, heart, and spirit, as an Inspirational Business/Life Coach, International Speaker, and Common Trauma Expert.
Anita is also an award-winning author. Her titles include Amazon best seller: Getting Through What You Can't Get Over, Barbour Publishing, First Hired, Last Fired — How to Become Irreplaceable in Any Job Market, Leafwood Publishing, Death Defied-Life Defined: A Miracle Man's Memoir, and contributor to The Change: Insights Into Self Empowerment Book #4. Her books are available at major and independent bookstores, Amazon, plus several online retailers.
She fulfills her mission to help 21st century women and men make fresh starts with fresh faith by sharing what she's learned through experience, interviews, and research. Anita shares hope and encouragement on her Fresh Faith Inspirations podcast.
Anita's favorite pastime is watching sunsets with her husband of 30 years, while they laugh and dip their toes in the water. Her favorite passion is inspiring others to transform battles into victories.