James: Biblical Commentary
Put your faith into practice on a daily basis and grasp the practical truths of God's Word with this in-depth commentary on James from Internationally renowned Bible teacher.

James has so much to say about living a powerful and effective life in Christ. The book addresses a variety of topics important to growing your faith and teaches that you not only need to read the Word of God and know what it says, but you also need to act on it. In this comprehensive biblical commentary, Joyce Meyer offers you practical insights for studying the book of James, with room for personal reflections that will help you grasp the truths in God's Word. You'll discover how to identify life-changing wisdom and get a better understanding of God's plan and purpose for your life.

Part of her first-ever biblical commentary series, Joyce's book on James will stir your faith in God and inspire you to live it out in practical ways because of your love for Him and desire to glorify Him in your life.
Do you study God's word, but aren't really sure what you're studying or maybe struggle with staying guided in His word? Jame is a great commentary and tool that helps the reader live on the Bible in practical ways. This book has space for you to record your notes, thoughts, or prayers as you read the book of James. This commentary is a fantastic tool whether you are new to the Christian faith or you have been in a relationship with the Lord for years. You will grow in your walk and learn so much more about the Bible! This is a great, practical tool! Thank you to the publisher for providing a complimentary copy. A review was not required. #sponsoredbyfaithwords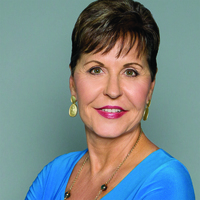 Joyce Meyer is one of the world's leading practical Bible teachers. A New York Times bestselling author, Joyce's books have helped millions of people find hope and restoration through Jesus Christ. Through Joyce Meyer Ministries, Joyce teaches on a number of topics with a particular focus on how the Word of God applies to our everyday lives. Her candid communication style allows her to share openly and practically about her experiences so others can apply what she has learned to their lives.
Joyce's programs, Enjoying Everyday Life and Everyday Answers with Joyce Meyer, can be seen around the world through television, radio, and the Internet. Joyce has authored more than 100 books, which have been translated into more than 100 languages and over 65 million of her books have been distributed worldwide. She teaches in cities across America as well as internationally. Joyce Meyer Ministries has offices in nine countries.
Joyce's passion to help hurting people is foundational to the vision of Hand of Hope, the missions arm of Joyce Meyer Ministries. Hand of Hope provides worldwide humanitarian outreaches such as feeding programs, medical care, orphanages, disaster response, human trafficking intervention and rehabilitation, and much more – always sharing the love and Gospel of Christ