Woman of Courage
Jilted by her fiancé, Amanda Pearson gives up on romance and turns to her Quaker faith for reassurance. She becomes determined to follow the Rev. and Mrs. Spalding into the western wilderness to minister to the Nez Percé Indians.

But a three-thousand-mile journey in 1837 is fraught with danger for anyone, and soon Amanda finds herself recovering from near death in a trapper's cabin. His Indian wife becomes Amanda's first convert--and friend. But the trapper and his intriguing half-Indian friend want nothing to do with Christians.

Buck McFadden has received nothing but pain from white men who claim Christ as their lord. He wants only to be left to his solitary life, but he can't seem to walk away from Amanda.

Amanda fears she'll never reach the mission in the Lapwai Valley. This journey has become life-changing for her--and those she meets--and the choices she must make are almost unbearable.
Gah! Woman of Courage by Wanda Brunstetter is amazing! I am a huge fan of her Amish Fiction, but this book is a little different as it is a historical fiction and this particular edition is a collectors edition, so add it to your Christmas wish list. It also contains Woman of Hope, which is a sequel Novella to Woman of Courage.
Fans of Wanda will enjoy the sense of adventure, history and the spiritual elements to this book that make it a great story. I found myself captivated by the story and turning the pages to see what was happening next with the characters. The twists and turns, made this book so adventurous, I loved reading it.
Grab a copy today, you won't regret it!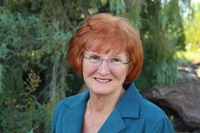 New York Times bestselling and award-winning author, Wanda E. Brunstetter is one of the founders of the Amish fiction genre. She has written close to 90 books translated in four languages. With over 10 million copies sold, Wanda's stories consistently earn spots on the nations most prestigious bestseller lists and have received numerous awards.
Wanda's ancestors were part of the Anabaptist faith, and her novels are based on personal research intended to accurately portray the Amish way of life. Her books are well-read and trusted by many Amish, who credit her for giving readers a deeper understanding of the people and their customs.
When Wanda visits her Amish friends, she finds herself drawn to their peaceful lifestyle, sincerity, and close family ties. Wanda enjoys photography, ventriloquism, gardening, bird-watching, beachcombing, and spending time with her family. She and her husband, Richard, have been blessed with two grown children, six grandchildren, and two great-grandchildren.