The Confident Woman Devotional: 365 Daily Inspirations
Revised and Expanded Edition

In this beautiful berry pink leather devotional based on her #1 New York Times bestseller, THE CONFIDENT WOMAN, Joyce Meyer addresses the concerns and issues that many women commonly experience-lack of confidence, poor self-image, dysfunctional relationships-and provides encouragement and practical wisdom to help resolve problems in those areas of life.

As a gift to yourself or a loved one, this powerful daily devotional will help women on their journey towards a confident life filled with love, laughter, and God's acceptance, one day at time
I am a huge fan of Joyce Meyer and all of her books. She writes such a inspiring books, including great devotionals. The Confident Women Devotional is a beautiful leather bound pink devotional perfect for every woman! It would be a great gift for Christmas! Filled with 365 devotions, her devotions speak truth, inspire faith and equip women.
Each day comes with one page, including a short scripture with a devotional and then a prayer. This devotional is perfect for the busy mom, the working woman, or even someone who even a woman who is looking to start their day on a powerful thought. I love the pages in this devotional and how it feels in my hand. It is very soft and flexible. The pink is a nice touch.
If you are looking for a perfect devotional to start 2019, don't look any further. You will enjoy this devotional. I highly recommend it.
I reviewed a complimentary copy of this book which I received from the publisher. I was not required to write a review. All opinions expressed are my own.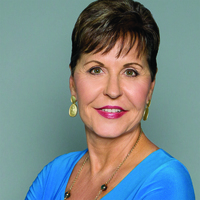 Joyce Meyer is one of the world's leading practical Bible teachers. A New York Times bestselling author, Joyce's books have helped millions of people find hope and restoration through Jesus Christ. Through Joyce Meyer Ministries, Joyce teaches on a number of topics with a particular focus on how the Word of God applies to our everyday lives. Her candid communication style allows her to share openly and practically about her experiences so others can apply what she has learned to their lives.