Healing the Soul of a Woman: How to Overcome Your Emotional Wounds
A follow-up to Beauty for Ashes, which has sold nearly 1 million copies, Joyce Meyer helps women heal from past emotional wounds and enjoy their lives again through Christ's redeeming love.

Can a woman who has been deeply hurt by life's circumstances, or even a man she loved and trusted, be healed? Can her heart and soul be healed? Can she love and trust again? As a woman who endured years of abuse, abandonment, and betrayal by those closest to me, my answer is "yes!"So many women who have wounded souls don't believe they can fully overcome their pain, or to fix it they don't know where to begin. I will share what I've learned on my journey, and the life-changing wisdom of the Bible, in hopes that you will once again believe that a more joyful, peaceful, hopeful life is possible for you. You deserve this life simply because you are God's beloved. And as we move through each chapter, I'll guide you overcome what is holding you back so you can claim the life of your true destiny and become
free from the misery of your past. God can heal all pain, and He wants to do this in you. You are valued. You are loved unconditionally. And you are priceless in God's eyes. Let HEALING THE SOUL OF A WOMAN be your first step toward the wonderful, joyful future God intends for you.
My Thoughts:
Healing the Soul of a Woman: How to Overcome Your Emotional Wounds by Joyce Meyer is for any woman who has been deeply hurt by life or by a person she loved or trusted. This book offers hope, healing and freedom! You do not have to return the way you started this book. Don't continue to stay wounded with the same wounds and hurts, but you can walk in freedom. You cannot afford for your soul to stay the same. Get ready to walk in complete freedom that has already been offered through Christ! Sometimes the journey is painful, but the first step to healing is to offer your junk to Jesus!
Overall, this book is great for all women! Joyce draws on her own personal experiences and the healing that has taken place in her life. She writes on forgiveness and how as believers we need to believe God's view of us first instead of others. This book is a great encouragement as one begins to unpack and process in beginning to heal the wounds.
I highly recommend this book. I give this book 4.5/ 5 stars.
About the Author: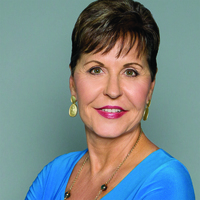 Joyce Meyer is one of the world's leading practical Bible teachers. A New York Times bestselling author, Joyce's books have helped millions of people find hope and restoration through Jesus Christ. Through Joyce Meyer Ministries, Joyce teaches on a number of topics with a particular focus on how the Word of God applies to our everyday lives. Her candid communication style allows her to share openly and practically about her experiences so others can apply what she has learned to their lives.
Joyce's programs, Enjoying Everyday Life and Everyday Answers with Joyce Meyer, can be seen around the world through television, radio, and the Internet. Joyce has authored more than 100 books, which have been translated into more than 100 languages and over 65 million of her books have been distributed worldwide. She teaches in cities across America as well as internationally. Joyce Meyer Ministries has offices in nine countries.
Joyce's passion to help hurting people is foundational to the vision of Hand of Hope, the missions arm of Joyce Meyer Ministries. Hand of Hope provides worldwide humanitarian outreaches such as feeding programs, medical care, orphanages, disaster response, human trafficking intervention and rehabilitation, and much more – always sharing the love and Gospel of Christ.