The Gift Of Love by Amy Clipston
Author, Amy Clipston is best known for her amazing ability to tell amazing Amish fiction. If you have never read The Kauffman Amish Bakery Series, I highly recommend it. It is my personal favor series on forgiveness, faith, hope, and grace. You will love the recipes Amy provides in each book and the characters, especially Rebecca in A Gift of Grace.
However, aside from her amazing Amish fiction writing, my favorite story of Amy's is her own personal journey when she writes her memoir entitled "The Gift of Love," where she shares their families personal testimony to God's grace and healing for a miracle.
Her husband, Joe began dialysis in 2003 when his numbers were not good. During this time, Amy was pregnant with baby number two and couldn't wait to give their other son, Zach, another sibling. However, Amy miscarried, and if this trial weren't hard enough, the transplant for Joe would be. Just as the Cliptson's were catching their breath, the nightmare was not over as Joe required a second transplant.
One kidney transplant is a miracle and Amy knew a second kidney transplant would be a miracle in itself. Amy was willing to give her own kidney, but frustrated to find she was not a match. During this season, God was preparing Amy for his plan for her as she entered the writing industry and signed my favorite series, the Kauffman Amish Bakery Series. In "The Gift of Love" Amy gives the account of how God worked everything together for good, despite the long road in front of her and Joe.
Their story doesn't just begin and end with transplants, but what it means to go through seasons of marriage hand in hand, despite the pain, loss, and believing in hope when all seems like it's gone. This book is for any Amy Clipston fan who doesn't know her remarkable story of faith, perseverance and hope.
Grab a box of Kleenex and get ready to cry, laugh and find yourself trusting in a God who is bigger than what meets the eye. I think everyone should read this book!
About the Author: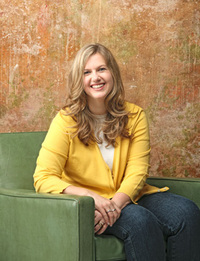 Amy Clipston has been writing for as long as she can remember. Her fiction writing "career" began in elementary school when she and a close friend wrote and shared silly stories. She has a degree in communications from Virginia Wesleyan College and is a member of the Authors Guild, American Christian Fiction Writers, and Romance Writers of America. She is the author of the bestselling Kauffman Amish Bakery series with Zondervan, which is part of HarperCollins Christian Publishing.
An advocate for organ and blood donation, Amy donated a kidney in 2011 at Johns Hopkins Hospital. Through her donation, her husband received a second kidney transplant. Amy and her husband matched another couple and swapped kidneys with them. Amy's memoir, A Gift of Love.