Minding the Light (Nantucket Legacy #2)
Six long years ago, Captain Reynolds Macy sailed away from his bride, looking forward to the day when he would return to Nantucket Island with a ship's hold full of whale oil. But when that momentous day finally arrives, Ren soon discovers that everything has changed in his absence.
Everything.
"Is nothing on this island as it appears to be?" he whispers in despair.
Unlike most islanders, bold and spirited Daphne Coffin doesn't defer to Ren as an authoritative whalemaster, but sees through his aloofness to the aching heart beneath. She encourages him to return to his Quaker roots and "mind the Light," finding solace in God and community. As Ren becomes the man she believes him to be--honorable, wise, faithful--she finds herself falling in love with him.
But how can she, when her heart is spoken for? Tristram Macy is Ren's business partner, cousin, and best friend--and Daphne's fiancE. Love always comes at a cost, but when is the price too high?
My Thoughts:
Minding the Light by Suzanne Woods Fisher is a compelling narrative with rich characters, a capturing setting and emotional complexity. The historical research and detail of Nantucket is exquisite and detail oriented. The reader can visualize the harbor, and smell the ocean. This book catches all the senses, which makes this book so beautiful. Not only is the book structurally sound with the plot, setting and characters, but the way this book pulls the reader into the story is uncanning. I felt very connected Mary and enjoyed reading her journal entries. This book was not just a great book of story, but one of history too and I learned a great deal of information in this book. I give this book a 4.5/5 stars rating. I highly recommend you putting this book on your summer reading list!
About the Author: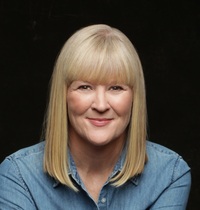 Suzanne Woods Fisher is the bestselling, award winning author of fiction and non-fiction books about the Old Order Amish for Revell Books, host of the radio-show-turned-blog Amish Wisdom, a columnist for Christian Post and Cooking & Such magazine.
Her interest in the Amish began with her grandfather, who was raised Plain. A theme in her books (her life!) is that you don't have to "go Amish" to incorporate the principles of simple living.
Suzanne lives in California with her family and raises puppies for Guide Dogs for the Blind. To her way of thinking, you just can't life too seriously when a puppy is tearing through your house with someone's underwear in its mouth.
Suzanne can be found on-line at:
www.suzannewoodsfisher.com