Room on the Porch Swing (Amish Homestead #2)
Ever since her best friend died six months ago, Laura Reihl has vowed to make each day count. And that means she should probably break off her relationship with Rudy. They've been together for so many years, and his friendship means the world to her. But she knows friendship doesn't come close to the fireworks of true love, and she's not really feeling the fireworks.
So when Savilla's widower, Allen, asks her to help him take care of the baby Savilla left behind, Laura jumps at the chance. Maybe the change of scenery will help her gain perspective on her relationship with Rudy. And she'd do anything to help Allen out—he's always been a good friend to her, and he's Rudy's best friend as well.
When she arrives at Allen's house, though, she finds a man she barely recognizes. Allen is distraught over his wife's death, blaming himself for not taking her to the doctor soon enough.
Amy Clipston continues to write amazing amish fiction. Just when I think she has written my favorite book, she writes a new one that you cannot miss! Room on the Porch Swing is one that you cannot put down. Amy captivates you and you will not be able to put this book down. This is a MUST read!
I cheered for the characters, I had tears in my eyes and boy do I love Laura & Allen. I found the characters to be highly relatable and full of deep emotions. As the plot unfolded, I found myself in tears, with kleenex at hand and unable to stop reading.
Grief, the loss of a loved one, faith, friendship, second chances, healing and forgiveness are many of challenges the characters face. Despite these challenges, ultimately Amy writes a story that takes the reader on an unforgettable journey. Even though I am done with the book, I am still thinking about the characters and this amazing story.
I highly recommend this book.
Room on the Porch Swing is the second book in the Amish Homestead series, but can be read as a standalone. This is another outstanding book for readers to enjoy by Amy. I give this book 5/5 stars.
ut the Author: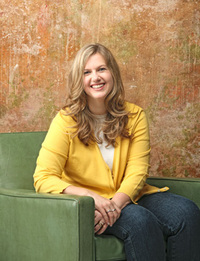 Amy Clipston has been writing for as long as she can remember. Her fiction writing "career" began in elementary school when she and a close friend wrote and shared silly stories. She has a degree in communications from Virginia Wesleyan College and is a member of the Authors Guild, American Christian Fiction Writers, and Romance Writers of America. She is the author of the bestselling Kauffman Amish Bakery series with Zondervan, which is part of HarperCollins Christian Publishing. An advocate for organ and blood donation, Amy donated a kidney in 2011 at Johns Hopkins Hospital. Through her donation, her husband received a second kidney transplant. Amy and her husband matched another couple and swapped kidneys with them. Amy's memoir, A Gift of Love, will be available in early 2014. She hopes her story inspires others to become organ and blood donors. Amy lives in North Carolina with her husband, two sons, mother, and four spoiled rotten cats. You can find her on the web at www.AmyClipston.com or on Facebook at www.facebook.com/AmyClipstonBooks