Living a Life You Love: Embracing the Adventure of Being Led by the Holy Spirit
You may say that you love your family, your spouse, your church, or the Lord. You may also express love for more temporal things like a good cup of coffee, your home, or a nice dinner at your favorite restaurant. But it is rarer to truly say "I love my life!"

It's common to be more frustrated with life than at peace with it, because the daily grind wears you down. Responsibilities and burdens become heavy and rob you of the happiness you're meant to have as a child of God. But you can be hopeful, learn to rise above your challenges, and be filled with wonder at what God might do every day.

Written by #1 New York Times bestselling author Joyce Meyer, who has gone from heartache to happiness through Christ, this book is the key to shifting your perspective so that you may also relish every moment and every part of life.

You will learn how to love life fully, in spite of your obstacles, and experience the happiness that is promised to you.
My Thoughts:
"Living a Life You Love" by Joyce Meyers is a fantastic book with great application for daily living! Their were several chapters in this book that really spoke to me and places where I need to grow. One chapter entitled
Don't Poison the Present with the Past,
had me thinking about my thoughts about my past and my future. Do I sabotage my future with my past failures, thoughts and mistakes? Or, do I see my future clearly with a vision, living with joy and trusting that God is protecting me? This chapter was a game changer for me.
The other chapter that was a game changer for me is the The Five- Minute Rule, which is all about not spending even five minutes obsessing about something that won't matter five years, five months or five weeks from now. And, I love this chapter! Do you ever have anxious thoughts or worry? They don't matter and you're borrowing troubles from tomorrow that do not matter. Instead, thank God five minutes for all the blessings He has given you. This book is practical and encouraging.
Overall, I enjoyed this book and think it gives practical advice with great application for all areas of your life. I give this book 5/5 stars. A favorable review was not required.
About the Author: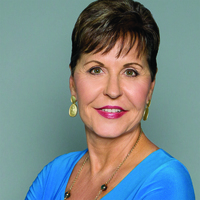 Joyce Meyer is one of the world's leading practical Bible teachers. A New York Times bestselling author, Joyce's books have helped millions of people find hope and restoration through Jesus Christ. Through Joyce Meyer Ministries, Joyce teaches on a number of topics with a particular focus on how the Word of God applies to our everyday lives. Her candid communication style allows her to share openly and practically about her experiences so others can apply what she has learned to their lives.
Joyce's programs, Enjoying Everyday Life and Everyday Answers with Joyce Meyer, can be seen around the world through television, radio, and the Internet. Joyce has authored more than 100 books, which have been translated into more than 100 languages and over 65 million of her books have been distributed worldwide. She teaches in cities across America as well as internationally. Joyce Meyer Ministries has offices in nine countries.
Joyce's passion to help hurting people is foundational to the vision of Hand of Hope, the missions arm of Joyce Meyer Ministries. Hand of Hope provides worldwide humanitarian outreaches such as feeding programs, medical care, orphanages, disaster response, human trafficking intervention and rehabilitation, and much more – always sharing the love and Gospel of Christ.