Hurricane Season
Betsy and Ty Franklin, owners of Franklin Dairy Farm in southern Alabama, have decided to put life's disappointments behind them. At least in theory. Ty manages their herd of dairy cows, while Betsy busies herself with the farm's day-to-day operations and tries to forget the longing for motherhood set deep in her heart. But when Betsy's free-spirited younger sister Jenna drops her young daughters off at the farm to attend a two-week art retreat in Florida, Betsy's carefully constructed wall of self-protection begins to crumble.

As those two weeks stretch much farther into the hot Alabama summer, Betsy and Ty learn to navigate the new additions in their world and revel in a home that's suddenly filled with the sound of laughter and life. Meanwhile, record heat promises to usher in the most active hurricane season in decades.

Four hundred miles away, Jenna is fighting her own battles. She'd once been free to travel and pursue a career in photography, but all that changed with the appearance of two pink lines on a plastic stick and a boyfriend who hit the road. At Halcyon art retreat, she finally has the time and energy to focus on her photography. As the summer continues, she wonders how her rediscovered passion can fit in with the life she's made back home with her two children.

When Hurricane Ingrid aims her steady eye at the Alabama coast, Jenna must make a decision that could affect both her and her children's futures, and Betsy and Ty find themselves protecting their beloved farm as well as their own hearts.
My Thoughts:
Hurricane Season by Lauren Denton is stunning! Slowing moving at first, but Ms. Denton was setting up the backstory for us. Told from several points of view, we get to read and feel the emotions of Jenna, Ty and Betsy. When it comes to character plot and characters, I related to Ty and Betsy, especially as they learn to communicate as a couple about things that are hard within marriage and children. While they experience heartache and sadness, I found them to be a relief in a good way.
The story picks up the minute a hurricane is about to make landfall. And of course, I wanted to rush to the end to find out what was going to happen. However, rapidly the story turns and twists as the characters transform, which I enjoyed, while tears rolled down my cheeks. Make sure to grab tissues as you go through the growing pains with these characters.
Overall, the story is a beautiful book of how we all respond to storms in our life. Lauren has crafted a masterpiece drawing her readers into an engaging story and one you won't soon forget. I give this book 5/5 stars. A favorable review was not required for a complimentary copy.
About the Author: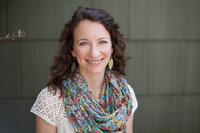 Born and raised in Mobile, Alabama, Lauren now lives with her husband and two young daughters in Homewood, just outside Birmingham. In addition to her fiction, she writes a monthly newspaper column about life, faith, and how funny (and hard) it is to be a parent. On any given day, she'd rather be at the beach with her family and a stack of books. The Hideaway is her first novel.