The Saturday Night Supper Club (Supper Club #1)
About:
Denver chef Rachel Bishop has accomplished everything she's dreamed and some things she never dared hope, like winning a James Beard award and heading up her own fine-dining restaurant. But when a targeted smear campaign causes her to be pushed out of the business by her partners, she vows to do whatever it takes to get her life back … even if that means joining forces with the man who inadvertently set the disaster in motion.
Essayist Alex Kanin never imagined his pointed editorial would go viral. Ironically, his attempt to highlight the pitfalls of online criticism has the opposite effect: it revives his own flagging career by destroying that of a perfect stranger. Plagued by guilt-fueled writer's block, Alex vows to do whatever he can to repair the damage. He just doesn't expect his interest in the beautiful chef to turn personal.
Alex agrees to help rebuild Rachel's tarnished image by offering his connections and his home to host an exclusive pop-up dinner party targeted to Denver's most influential citizens: the Saturday Night Supper Club. As they work together to make the project a success, Rachel begins to realize Alex is not the unfeeling opportunist she once thought he was, and that perhaps there's life--and love--outside the pressure-cooker of her chosen career. But can she give up her lifelong goals without losing her identity as well?
My Thoughts:
The Saturday Night Supper Club is simply wonderful. It will make you hungry, happy and it has all the "feels." It is such a wonderful novel. I love the charming setting, the friendships, the supper clubs, the scrumptious food and of course the drama. This is a book that you will just sink your teeth into a read until you're finished. Plan to read it from start to finish in one sitting because it is that AMAZING!
What makes this book so unique is that first, it has to deal with food, which is something not a lot of authors write about. Ms. Laureano wrote this book with tact, and understanding of the food industry. Second, the aspect of friendship is vital in this book as well. I love that this is a huge premise for the book. We all want to live in community with one another. Finally, there is a romance, which we enjoy. I won't say a lot about this.
The depth of the characters, the drama and the fast pace of turning pages of this book made it so enjoyable. The element of faith in this book was perfect. It wasn't forced, but it was just perfect. Well done Ms. Laureano! I can't wait to read the next book in this series. I give this book 5/5 stars and I highly recommend it!
About the Author: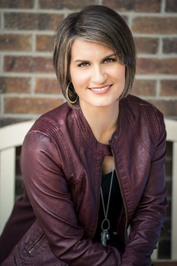 Carla Laureano is the RITA® Award-winning author of contemporary inspirational romance and Celtic fantasy (as
C.E. Laureano
). A graduate of Pepperdine University, she worked as a sales and marketing executive for nearly a decade before leaving corporate life behind to write fiction full-time. She currently lives in Denver with her husband and two sons, where she writes during the day and cooks things at night.