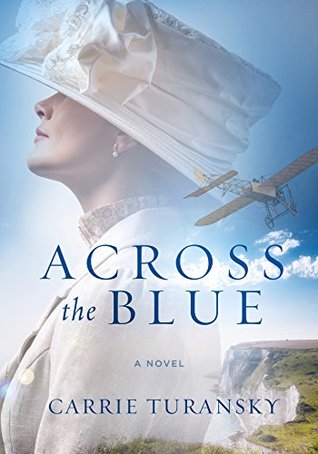 Across the Blue by Carrie Turansky
About:
Set in Edwardian England and ideal for readers who enjoy Julie Klassen novels, this romance about an English aviation pioneer and the girl who falls in love with him is filled with adventure and faith.
Isabella Grayson, the eldest daughter of a wealthy, English newspaper magnate, longs to become a journalist, but her parents don't approve. They want her to marry well and help them gain a higher standing in society. After she writes an anonymous letter to the editor that impresses her father, her parents reluctantly agree she can write a series of articles about aviation and the race to fly across the English Channel, but only if she promises to accept a marriage proposal within the year. When James Drake, an aspiring aviator, crashes his flying machine at the Grayson's new estate, Bella is intrigued. James is determined to be the first to fly across the Channel and win the prize Mr. Grayson's newspaper is offering. He hopes it will help him secure a government contract to build airplanes and redeem a terrible family secret. James wants to win Bella's heart, but his background and lack of social standing make it unlikely her parents would approve. If he fails to achieve his dream, how will he win the love and respect he is seeking? Will Bella's faith and support help him find the strength and courage he needs when unexpected events turn their world upside down?
My Thoughts:
From the start till the end, I absolutely just enjoyed Across the Blue Sky by Carrie Turansky. I love that this book was about aviation and history, which is something so different than I would normally read, but I also loved reading about Bella. Her character was charming and her adventurous spirit made me feel very connected to her. If you like chemistry between characters, wait till you read the chemistry between James and Bella. And if you're like me who loves a book that has some curves and twists in romance, but also a bit of traditionalness, then I think you will really enjoy this novel. It is a quick read. The characters are wonderful and you can't put this book down. I give this book 5/5 stars!
About the Author:
Carrie Turansky is the award-winning author of eighteen inspirational romance novels and novellas. She has won the ACFW Carol Award, the International Digital Award, and the Crystal Globe Award. Her most recent releases are Waiting for His Return and Shine Like the Dawn. Across the Blue releases 2/20/18. She lives in New Jersey with her husband, Scott, who is a pastor, author, speaker and counselor. Carrie leads women's ministry at her church, and when she is not writing she enjoys gardening, flower arranging, and cooking healthy meals for friends and family. Connect with Carrie on her website:
www.carrieturansky.com
, GoodReads, Facebook, Pinterest, Instagram, and Twitter.