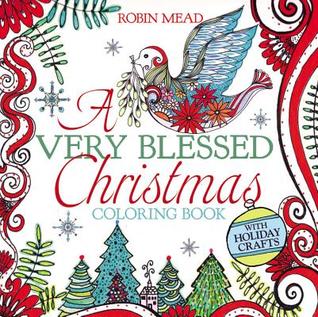 A Very Blessed Christmas Coloring Book by Robin Mead
Color your way to a meaningful holiday season with A VERY BLESSED CHRISTMAS COLORING BOOK.
There is no better way to get into the full spirit of the holiday season than by coloring more than 85 uplifting illustrations in this special volume: frosty winter scenes, carolers in the snow, trees trimmed in nostalgic trappings, ornate churches, angels, nativities--all reminiscent of cozy moments with family and friends and the sweetest, simplest blessings of the holidays. Each artist can rejoice with a grateful heart and be reminded of the ultimate gift God gave the world. Also included are illustrated Scripture verses and fun, holiday craft cutouts that everyone can use to create their own ornaments, Christmas cards, gift tags, and more!
My Thoughts:
If you are like me, you can find a coloring book just about anywhere now. However, I have become quite picky. Since we have gotten into the Christmas Season, I found the perfect Christmas coloring book that incorporates a fundamental cornerstone in my faith, which is the birth of Christ, who is in my opinion, the reason for the season.
What I love about "A Very Blessed Christmas" is the fact that it brings scripture into coloring, while allowing me to color in a relaxed quite moment. I love the pictures and how big they are. I don't like to color small coloring books, with lots of detail. I find it be quite intimating, so this book is perfect.
Additionally, this book has a section for Christmas crafts such as cutouts to make ornaments, bookmarks or even gift tags. I love that this coloring book is unique and is perfect for everyone. It is inspirational, filled with beautiful pictures of angels, snowflakes, trees, stocking, nativity and so much more! You will love this book!
This coloring book has great paper that is thick. I used colored pencils. I give this book a 5/5 stars.
I received A Very Blessed Christmas Coloring Book compliments of Faith Words, a division of Hachette Book Groups for my honest review. I did not receive any monetary compensation, aside for a free copy of the book, in exchange for my unbiased and personal opinion.