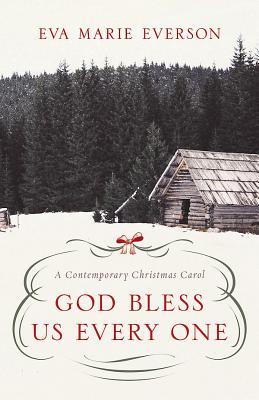 About:
Charlene Dixon--called Charlie by family and friends--is devastated at the recent loss of her job. For the last five years, the twenty-seven-year-old has blossomed as the activities director of an exclusive all-girls school. But when a misunderstanding with the head-mistress leads to a pink slip right before the holidays, Charlie packs up dreams and returns to Grandma Esther, who raised Charlie as her own.
When Charlie arrives--broken and confused--Esther immediately puts her granddaughter to work behind the scenes of the local school's Christmas play, A Christmas Carol. When Charlie disapproves of having to work with Dustin Kennedy, the seventh-grade English teacher, Grandma Esther encourages her to take a deeper look at why the book by Charles Dickens had been written in the first place and what the book could teach Charlie about the needs of the children in their ow
n community.
My Thoughts:
God Bless Us Everyone by Eva Marie Everson is a traditional and contemporary blend of the Charles Dickson's The Christmas Carol with a modern tale of a story told of second chances, forgiveness, new beginnings and faith. I love that this book takes the reader into the Christmas season in a lovely way and the ending has a happily ever after that is different than I had anticipated. Eva did a great job with the character development and I enjoyed the story line. I give this book a 5/5 stars. Thank you to the publishers for providing me a complimentary copy for review purposes. I was not compensated for a positive review.