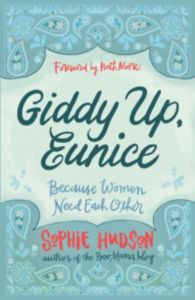 (Because Women Need Each Other)
It's no secret: Women need each other—especially now. We're in one of the most puzzling cultural places we've ever been: we have young girls looking for security in selfies (clothing optional), older women feeling dismissed and diminished, and a generation of mom-agers in between. But all too often, especially in the church, we limit our relationships to people who are just like us: in the same age- and stage-related circles.
In her delightfully quirky, Southern style that readers have come to know and love, Sophie Hudson has written a rallying cry for women everywhere to open their eyes to the people God has put into our lives—those behind us and those in front of us—that we are meant to share the road with. It was never God's intention to only be friends with women just like us. Giddy Up, Eunice is an invitation to extend our hands to the generations on either side and to truly love each other, pour into each other, and soak up all the wisdom that we can along the way.
We will all be the better for it.
My Thoughts:
A must read book for women of all ages, Sophie weaves humor, with Biblical truth from many women of the Bible. This is one of those books that every woman needs, is relevant across all generations and I love how she used women of the Bible. This book reminds me of all the sweet women who have mentored me in my journey with Christ and it isn't one to miss. You will keep this on your shelf and read it over and over again. I give this book 5/5 stars and definitely recommend this book for a book club or Bible Study with women at your church. Thank you to the publisher for providing me a complimentary copy for review purposes. I was not compensated for a positive review.
About Sophie Hudson:
Sophie Hudson
loves to laugh more than just about anything. She began writing her blog, BooMama.net, in November 2005, and much to her surprise, she's stuck with it. Sophie hopes that through her stories, women find encouragement and hope in the everyday, joy-filled moments of life. In addition to her blog, Sophie is a contributor to the Pioneer Woman's blog and serves as co-emcee for LifeWay's dotMOM event.
A graduate of Mississippi State University, Sophie loves cheering like crazy at college football games and watching entire seasons of TV shows in record time.
Sophie lives with her husband and son in Birmingham, Alabama, where she serves as the women's advisor at a local Christian high school.