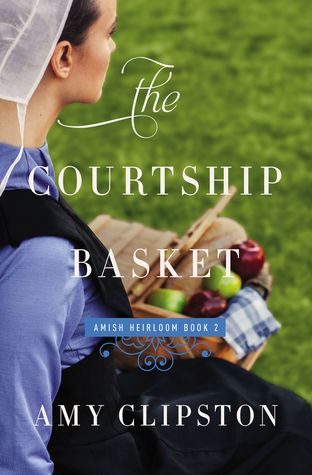 About:
Rachel Fisher is devastated when the young man she's loved for years leaves her to date her best friend. Her heart is broken, and she has all but given up on love. Determined to keep her mind off the pain, she starts teaching at an Amish school for children with learning disabilities.
Since his father became ill, Mike Lantz has been overwhelmed with the responsibility of providing for his family and caring for his six-year-old brother, John. When John joins Rachel's class and she learns that his mother is deceased and his father sick, she desperately wants to help the family, even with something as simple as a meal.
With her parents' old picnic basket, Rachel begins sending food to the Lantz family. As the weeks go by, John's grades start to improve, and the attraction grows between Rachel and Mike. They can't deny that their friendship is growing toward something more, but both of them are hesitant to risk a more serious relationship.
The last thing Rachel wants is another heartbreak, and Mike is worried about providing for his loved ones. Will the two be able to reconcile their past hurts with new hope for the future?
My Thoughts:
In my opinion, Amy outdid herself in "The Courtship Basket" and took her writing to a whole new level. With Mike and Rachel, the reader feels this torn emotion between the two characters. It's the roller-coaster balance of emotions that keeps the reader salivating and wondering what will happen next. Is it friendship? Is it romance? What is it or is it nothing at all?
And of course, this story has something that makes it rather unique when the author writes about a character named Raymond, who has a particular disease that is near and dear to her families heart. It gives this book all the more emotion, and allows the reader to connect with the characters and story line in a personal way. I loved that Amy included parts of her own journey within a story and if you don't know what I'm talking about, then, you will definitely need to pick up The Courtship Basket, which is the second book in the Amish Heirloom series, as well as The Gift of Love. I recommend reading The first book in this series, but it is not necessary to understand "The Courtship Basket."
Overall, you will not be able to put this book down as the pages turn and in the end, you will be sad to see the characters go, but you'll be thankful to know, there are always opportunities for second chances. I enjoyed the ebb and flow of emotions, and I believe that this is Amy's best book yet.
I received an ARC copy of this book from the author in exchange for my honest review, which I have given. I give this book 5/5 stars and recommend that you put this book on your summer reading list.
You can pre-order a copy today
here.
The Courtship Basket releases June 28, 2016.
I'm an advocate for organ and blood donation. I donated a kidney on June 14, 2011, at Johns Hopkins Hospital. Through my donation, my husband received a second kidney transplant. My husband and I matched another couple and we swapped kidneys with them. I gave a kidney to my husband's donor's wife. Feel free to email me and ask me what it was like to be a kidney donor. It was one of the most amazing experiences in my life. If you're healthy, please donate blood! Also, become an organ donor. To learn more about Amy visit: Here