Here are two of my latest reads:
Emotions: Charles Stanley
My guess is that if you have a pulse, you experience emotions. At some point we all feel mad, happy, scared, anger or a variety of other emotions. Some emotions are negative, others are positive, but why do we tend to remember negative emotions? I think it's because we let our negative emotions controls instead of allowing them to help us find purpose.
In his new book, "Emotions", written by Charles Stanley, he looks at five key emotions; Fear, rejection, bitterness, despair and guilt. He show about how each emotion can affect our lives and how we can feel trapped by them if we don't handle them in the correct way. He allows the reader to gain a perspective about why we have these emotions and how we can be set free from them.
This book is very easy to read. You can immediately identify with Charles and feel as almost if the two of you are having a discussion over coffee about your feelings. I think he addresses these 5 emotions with such clarity and experience. You can't help walking away from the book feeling better about yourself. If you're looking to address emotions in your life like bitterness, fear or rejection, this book will move you along in your journey to finding peace.
Preemptive Love- Pursuing one Love at a Time- Jeremy Courtney
Wow, is the only way I can put my feelings on this one. Jessica and Jeremy find themselves in the middle of the Iraq War when they meet children who have medical needs. A little girl with a hole in her heart is the first mission, but they soon realize the mission is bigger than they had expected. Thousands of other children are in line for life saving medical procedures as well.
And not all of these stories turn out well. Not every child is saved, or doesn't make the surgery. The reality of life in Iraq is completely different than the states.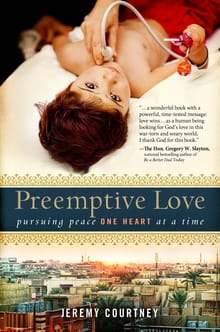 This is the story of love, God's love. It isn't a story of hero's or people doing good things, but a story of compassion, a story of redemption and forgiving enemies. It's a story of giving your life away and finding so much more.
Here in the states we are self- seeking and yearning to protect and creating financial security when if we chose to lose our life, we would gain so much more. This is the story of two people who have given everything to lose their life for something so MUCH MORE!
In my opinion, both of these books are fantastic for different reasons. I recommend them both depending on where your life finds you right now.
Thank you Howard Publishing for allowing me to review these books. I am not compensated for positive reviews. These are my honest opinions.