"Less than 3 months away till Christmas. I think it's only fair I start posting some Christmas books to get you thinking about this wonderful season!
"Christmas is so much more than a holiday. So much more than wrapping, buying, cooking and eating and trimming with tinsel and mailing out cards. It's a season for reflection, for preparation and renewal."
Does this sound little bit like you? The person who is rushing through the Christmas Holiday just to get it over or the person who can't wait till Christmas is over with? Maybe you're not truly enjoying the holiday season and all it has to offer? That quote just stuck with me and made me realize, I need to re-think Christmas a little differently.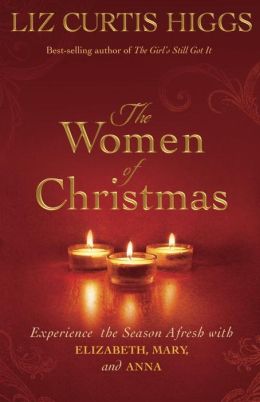 Mary, Elizabeth and Anna, 3 women chose by God to play a important role in the lives of Jesus' birth and God had a specific person why he used them. As you read each of the accounts of their lives and their stories, you will see what their role is, how they can waited on God and why we should trust him in the big, small and otherwise.
The book focuses on these 3 women and tells the stories of their lives. I never really knew the story of Elizabeth, so this was really good for me to read. I knew bits and pieces of Mary's life and a bit about Anna, but this put everything into great perspective for me. The Author Liz Curtis Higgs has a great sense of humor when writing this book. I loved this book and her view on the lives of these women.
Would I recommend this book? Heck, yes! This book would be a great small group discussion book with a group of ladies for the month of November to prepare or even December to keep your head and heart in the right direction during the Christmas season.
I received this book free from Waterbrook, I was not compensated nor required to write a positive review.

I received this book free from the publisher in exchange for an honest review and am in no way obligated to leave a positive review.