The Love Endures collection has many different titles. I had the opportunity to review two of them written by Grace Livingston Hill.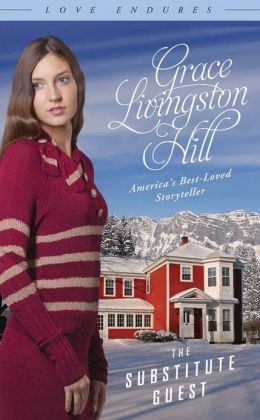 The Substitute Guest written by Grace Livingston Hill is a book that you will re-read from years to come. This book is a book that I will read yearly during the Christmas Season. The Substitute Guest is about family, good friends, romance and helping others. Alan Monteith decides to help a sick woman on Christmas Eve by delivering medication, but his car breaks down at Daryl Deveraux's home during the middle of a blizzard. Daryl wants to just have a family holiday, but when Alan arrives at her house, everything changes. Her brother offers to go up the mountain with Alan to deliver the medicine. The two trek in the blizzard as Daryl is left at home to worry for her brother and Alan. Will the two make it up the mountain in the time to deliver the medicine? Will Daryl have the opportunity to get to know Alan? Will the two fall in love or will she lose her brother and Alan in the blizzard?
As the Christmas season approaches us, I highly recommend picking up this book! You will enjoy it as you sit cozy in a blanket drinking hot chocolate. This book will take you to a different world. I loved this book! It was my favorite out of both titles.
Do you love a good mystery? Do you want a page turner that will keep you guessing as to what will happen next? Kerry is the daughter of a scientist who was in the middle of writing a book when he passed. Her mother marries Sam Morgan (Multimillionaire) six months after the death of her father. Her mother was always in love with Sam and it's evident. Kerry's father wanted Kerry to finish the book if he passed away. As Kerry begins to start her journey to New York, things start missing. Someone aboard the ship is out to expose her fathers work. She meets a man named Graham Mc Nair who wants to speak with her. He knew her father when he was very young or so he claims. This man is eager to help Kerry. Will this be the man she falls in love with? The man after her fathers work or the one who helps her discover who on board is trying to steal her fathers work? The only way to know, is to read the book!
This book is a quick read and anyone will like this book. I loved the mystery in it and found it to be an enjoyable read. Each page kept me wondering and guessing what would happen next. I loved it!
Thank you Barbour for allowing me to review these two books. The opinions expressed her are mine. I was not compensated for a positive review.