On Friday evening, I begged Drew to take me to Holland State Park to see a sunset. See, he took me out there on Thursday night, so I didn't think he would agree to a second evening. He agreed and we laughed so hard while we were there. I was so glad to be in front of a beautiful display of God's creation!
This Saturday was supposed to our last long run as we taper for Double Dare Dumbo races, but that didn't happen.. Not because we were lazy, but I had some "incidents" that prevented me from running. It completely stinks! Our weekend was pretty relaxed, especially since I was tired from them. Of course, this morning I had to make a call to my neurologist.Over the course of the weekend, I took several naps, watched some movies and read a couple of great books.
One book that I really enjoyed reading and made me laugh this week is titled " Take Flight, A sisterchick Devotional" written by Robing Jones Gunn and Cindy Hannan.
Don't worry if you have no clue what a sisterchick, "it is a friend who shares the deepest wonders of your heart, loves you like a sister and provide a reality check when you're being a brat."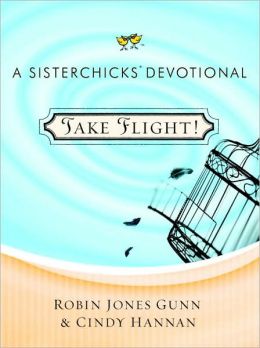 Robin and Cindy are true sister chicks through the thick and thin. Each devotional has a story written by Robin and then "From Cindy's Perch" has a Bible Verse or questions to ponder and allows the reader to respond in a written form. Robin addresses topics of faith, wonderful circumstances and moments of trials. She reaches a wide range of audiences with the way this devotional is written.
Oh, I just love this devotional! It is so cute! I feel like I'm curling up in a book with friends and reflecting on the sisterchicks in my life. Robin Jones Gunn is my favorite author, so I was beyond thrilled to read this devotional book!
Question: What did you do this weekend? Who is a Sisterchick in your life?