I was super excited to have the opportunity to read "Greater" by Steven Furtick. My husband read "Sun Stand Still" and loved that book, so I knew this would be a great read.
Of course, this book did not disappoint.
This book inspires the reader to propel to a different level of faith, discover dreams bigger than yourself and to discover a different sense of purpose that beyond money, popularity, fame or anything else that is worldly.
Pastor Steven tells the story of Elisha from the Old Testament as he utilizes it to show us a place where we start and how we can begin a new life in faith. Elisha's story in the premise for this book. Life changing lesson of obedience that connect you to your past life, practicing faith and learning.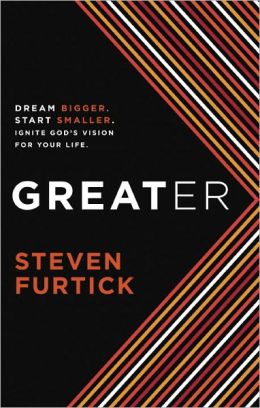 This book is about how God is using the readers life to bring one to the next step. God communicates to each person differently, especially how he reveals each step to the greater life. However, you don't have to wait to live the "Greater" life, but instead start living it right. The journey to greatest is the suffering and road blocks we encounter on the way. Each of these road blocks are not wasted, but an opportunity to see the Glory of God in places we didn't know existed.
I recommend this book to anyone wanting to take a leap of faith and seeking to live the "greater" life.
I think this book would be great to read as a Bible Study. It has a discussion/ group questions in the back of the book.