I have been on a hunt mission to find a swim suit. Usually, I don't have the difficulties that I'm having this year.. Stores seem to be stocking less two piece tankini styles and more 1 piece suits.. I already have a 1 piece that is completely fading and it's almost

embarrassing

to keep wearing it to the Y. The color is so fading and I am disgusted with it.
I bought over $500 worth of swim suits online and well.. they all sucked!!! I tried this JCrew swim suit below, but it was too big! That is always a good thing....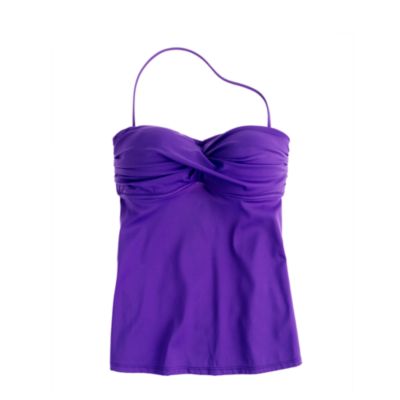 I tried Eddie Bauer and I can tell you I was not impressed with the quality of their suits. Having spent $300 on a few of them, the quality was not going to last the entire summer.. The material felt very thin and too stretchy for a swim suit. Plus you can't try them on in the store, but I don't recommend them... I had horrible luck!!
I just made a huge order from JC Penny!! Almost $300 Let's hope I can find a swim suit in this shipment! I usually can find my swim suit at Kohls or JCPenny, but again, a lot of stores aren't stocking swim suits.. I feel like by now, they should be out..
Speaking of Jc Penny, I scored a great deal on a pair of Women's Nike Fit Dry pants!! They were only $8, but I had a 20% off coupon, so I scored them for only $6!!
They are so cozy and I love them! If they had another pair, I would have purchased them.. Be on the look out to see if you can score a good deal on them yourself.. It will be the best $6 you spent!! I promise!!
Question:
Where do you purchase your swim suits from? Are you a tankini or a two piece kinda girl?? Maybe a 1 piece????