The weather here has finally turned beautiful. We are in the 80's and I'm LOVING it! Spring you didn't abandon us!
This past Sunday, I struggled a lot. If you know me, I don't let things bog me down or define how I'm going to react. This year has been hard for me in a lot of different ways. On Sunday we went for a run and I thought surely I was going to go down.. I definitely thought I was going to pass out or dare I use the word that starts with an S..(seizure) I told my husband I was going down, but somehow I willed it not to happen. This is scary.. My husband freaking out.. Telling me I could crack my head open and such..
. I could feel it come on and then it stopped.
We finished our run. We slowed down for a quarter of a mile and then I picked it right back up. Even to the point where we reached about 15 houses from our apartment complex and I yelled at him "How bad do you want this?" I proceeded to floor my legs, as much as possible, but he still passed me.. Next time, I need more of a head start. :)
This feeling repeated itself into the evening. Feeling like I was going to vomit and then pass out.. Now, if you're thinking pregnant, nope... Not a chance... Just a typical day in my life. I went to the Dr. on Monday, I knew something was wrong... I was tested for an infection, which was positive.. I'm on antibiotics and this could possibly be causing problems, especially with female reproductive organs, which could be triggering seizure like events.. Let's hope they got this figured out..
Either way, I'm down 11 pounds from my doctor visit last month! BAM! I couldn't believe it... I'm not even working out, or least not enough.. I have to wonder if it's because I'm eating healthier and have lost muscle mass..
As I have been reflecting on my week, I have been reading this book called "Days Like These" written by Kristian and Rachel Anderson. Kristian Anderson is a young husband battling bowl cancer. His story is moving and an ordinary person who loves extraordinary. His story leaves such a legacy to those facing cancer and those who have lost a loved one.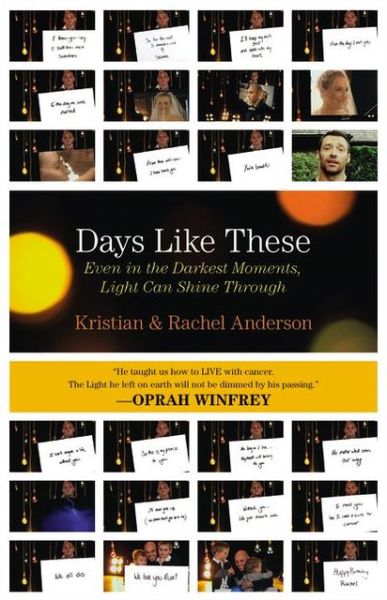 He even made this Youtube video for his wife's Birthday. Take a peek. It's very inspiring and humbling.
As I reflect on the human, father, son and husband he was, I am reminded that we must love deeply. He also has made me remember when I feel like I've reached the end, I still can stand and keep moving forward. My reflection comes from a place of ...
How will I be remembered? What legacy did I leave here?
Aren't these questions we long to ask ourselves and wonder the answers?
I am reminded by Kristian and his wide, Rachel, life is short. Every moment counts and live life to the fullest. You never know when a trip to the doctor could turn fatal.. "Days Like These" will bring perspective back into your life. It did for me.
Question:
How do you want people to remember you?