Summer, Fall , Winter, Spring- Vermont is the place to find four friends who fall in love and try to solve a mystery.
Welcome back the wonderful town of Smitten. If you haven't read the first novel, Smitten, you should because it is so cute!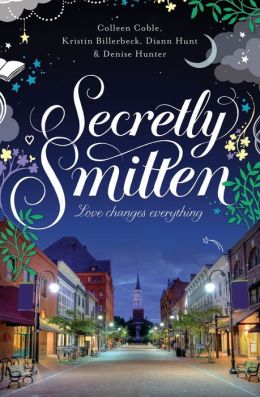 Secretly Smitten is four little stories wrapped up in a
larger story. Each story is written by some familiar Christian Writers like Denise Hunter, Kristine Billerbeck, Colleen Coble and Diann Hunt.
Our story begins with Tess who is the granddaughter of Rose. She finds herself wanting to resolve the mystery of the dog tags that ended up in her Grandmothers attic. When Tess questions her grandmother she begins to see Rose had deep feelings for David, (dog tag owner). As Tess begins to explore she finds that Ryan a possible love interest may have the key to unlocking the mystery behind her grandmothers first love.
In the other three stories we meet the other granddaughters of Rose and find out, the exact mystery on the dog tags. It is important to understand the first story in order to understand how each reader takes you through. The story is a light novel, easy to read and I love the mystery involved with it. Each author did a Fantastic job at writing this book and the flow from one story to another is Excellent! I love the "Smitten" series!
Thank you Thomas Nelson for allowing me to review this book. I was not compensated for a positive review.