If you have not read a Robin Jones Gunn book, you're missing out! These books are great! One of the best series she has written is called The Glenbrooke Series. The Glenbrooke series is about this town of different people and how their story aligns in some fashion or another.
"Echoes" is the 3rd book in this series. I have read all of these books and have loved them. At the chance to read it again, I was all in! In this book we meet Lauren Phillips, a woman who was engaged and ready to start her life with Jeff. When Jeff gets a promotion that leads him to a job in New York, Lauren isn't sure she can go. Jeff decides he cannot marry Lauren and moves to New York.
Lauren is devestated and has to slowly begin to rebuild her life. With the helps of her brother, she begins using the computer, which leads her to talking with a mysterious man, who of course turns to be a love interest. Does she meet K.C and do the sparks fly? You'll have to read if for yourself.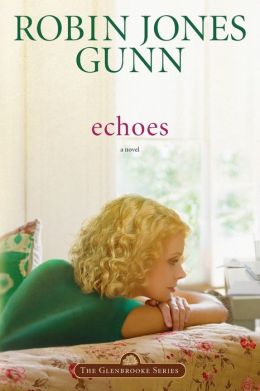 I love Robin Jones Gunn books because you can always expect a light heart read and to draw closer to God. Her books are not just fluff, but God works through all of her characters. I can relate to her stories and style of writing. Her books are fluid and a great read!
Thanks to Waterbook Publishing for allowing me to review this book. I was not compensated for a positive review.