How many of you can say you're happy? Is your happiness based on your poessions? Your money? Personal time? Marriage? Family? Body Image?
Gretchen Rubin, author of Happier at Home conducted a 1 year experiment to find true happiness. She decided to discover happiness in several areas and picked one area for each month. She addresses areas such as parenthood, time, possessions, marriage and other areas to help provide solutions to promote happiness. She searches soul deep to become a better self. While on this journey, she brings the reader into wondering where their personal journey of happiness may be? She talks a lot about her personal discovery and growth, but invites the reader to understand that her personal happiness may not be the same as everyone else. This self-help book is a really great gift. I love that you could essentially read a chapter a month to complete this or guide you on your own journey to find happiness. This book is well thought out, documented and very encouraging.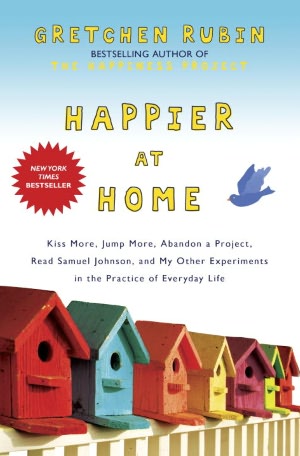 She asks the reader to think outside of the box and find what things might make the reader happy. She offers a lot of non to cheap ideas to incorporate fun, meaning and happiness without breaking the bank. As a person trying to get out of debt, I loved this book even more.
Could you implement a Happiness project in your home? I don't know that I could stay dedicated for an entire year.. What makes you happy? Where do you find happiness???
I recieved this book complementary from Waterbrook Press publishing company for this review. I was not compensated for a positive review.