I know it's a little early to start thinking about Christmas, but the stores already have Christmas books, cd, wrapping paper, gifts, cookies and other things to get the season rolling.. As a blogger, I am getting ready too...
I am going to start by giving you a preview of some upcoming Christmas titles... Take a look and see if any of these are of interest to you!
A Marriage of The Heart:
Contains three different stories including:
A Perfect Rose
Christmas Cradles
A Marriage of the Heart
Since this book does contain three different stories, I could write a novel about each and give you my review, but I am going to pick the story I liked the best. I loved that this book included three stories.. I love books that have multiple stories, I feel like I am getting more for my $$.
My favorite story was A Marriage of the Heart, which is the third story in this book. Abigail has lived with her father since the death of her mother at five years old. She feels like she cannot live in the farmhouse and experiences a deep emptiness. She wants out and has a plan on how to succeed. Jospeh Lambert is new resident to her close knit community and she finds him to be the perfect scapegoat for her situation. Abby tells a lie to her father who she knows will force marriage, when she is married to Joseph, she has to figure out how to make her marriage work. Joseph struggles with a tough addiction, but is he able to over come? Abby wants to escape her life from her father, does the marriage provide her the escape she is looking for? Will Abby trust Joseph and will their marriage last a life time?? The only way to find out, is to read this book!
Thanks to booksneeze for allowing me to review this book. This is my honest opinion and I was not compensated for this book.
This book is a cute little Amish Christmas novel about a woman named Susanna Keim and Herman Wagler who are recently married. Disagreements begin to present challenges in their marriage and Susanna is struggling with her feelings. Herman is not a big fan of the Christmas traditions Susanna's family holds. He believes that they should not follow her family traditions. Susanna is upset at the idea of not being able to spend Christmas with her parents. An old flame of Suannas come back into the picture and Susanna is left wondering did she make a mistake? Why is Matthew Yoder back in the community? Does he want re-kindle the flame or leave it? Susanna is confused about her current predicament, but wants to be respect her husbands guidance despite her holiday traditions.. Will these two work though these issues or will Matthew bring a fork in the road that will make Susanna think otherwise? Thank you Harvest House for allowing me to review this book. The opinions expressed are my own.
Paper Angels:
Paper Angels is not a newly released book, but is for the paperback edition. Want to get into the holiday spirit? This book is sure to get you feeling hopeful in a situation that seems hopeless. Kevin Morrell and his wife are shopping through the mall when they stumble across the Salvation Army Angel Tree project and see the paper ornaments on the tree. Kevin's wife decides they should take a paper ornament off the tree. They pick the name of a Thomas Brandt, who is a fifteen year old boy coping with instability of an alcoholic father and a mother who has been trying to provide for him and his sister. She has been holding up by a thread. His mother has faith in God and her faith has kept her going, despite deep family struggles. This story is about the kindness of two strangers that change the life of a young boy.
I loved this book and I love Salvation Army! Angel Tree is a national organization that helps out many needy families.. To find out how to get involved or learn more about this awesome organization, go here!!
Thank you Howard Publishing Company for allowing me to review the true meaning of Christmas!
The Ghost of Christmas Present:
This is book is about an 8 year old boy, Braden Guthrie who needs a heart operation due to an enlarged heart, which caused the death of his mother. Patrick, his father is determined to get his son the operation.
When Patrick returns to his drama teaching job, he finds his classroom empty because the school had to let go of teachers due to budget cuts. He is determined and desperate to help his son. A social worker shows up at his door, he owns back rent, utility payments are past due and are threatening to turn off if payment isn't made or if he fails to show proof of employment. Patrick is stuck and does not want to have to go to his Father in Law, Ted Cake for the money to help Braden. Patrick believes that his father in law is behind the PS worker and is trying to take Braden away. Ted is already mad at the death of his daughter and blames Patrick.
What does Patrick do? He goes to the streets as the Ghost of Christmas present and begins performing to touch the lives who come through the streets in hopes of helping him in a dark situation.
Does Braden get the heart operation and can he resolve issues with his former father in law?
I received this book complimentary of Howard Books. Thank you providing me this review copy.
Love Finds you at Home for Christmas including two tales: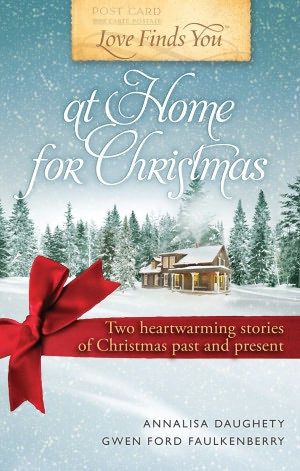 Sweet Southern Christmas is the story of Ruby McFadden who works at the Arkansas ordinance plant during World War II. She is attracted to Cliff Hamilion who is grieving the lost of his little brother, Charlie. Charlie protected Cliff through an explosion and Cliff is dealing with the guilt of losing his brother and being the one who lived through the tragic incident. Ruby is falling in love with Cliff as she learns about him, but will he be able grieve the loss of his brother and open his heart again to the idea of love? If his feelings develop, will Ruby be ready to take a chance at love again? This is a great little Christmas romance that will make you feel good.. I love these kinds of stories!
Small- Town Christmas is the story of Sophie Harper who returns to Arkansas after a long time away. Her former marriage by Stephen deteriorated and left her to return home in hopes of starting over again. She runs into a former childhood friend, Jon Anthony who rekindles something inside of her. She receives a phone call that Stephens father is dying of Cancer and Stephen asks Sophie to come. Will Stephen and Sophie put back the pieces to their marriage or does God have a plan for Jon?? You need to read this book! Super cute! I read both of these stories very quickly.. Great stories with a great message!
Thank you Summerside Press for providing me this great Christmas romance novel! You will love these stories!
Hope you enjoyed these 5 Christmas titles! Any one of these books will get you into the spirit of Christmas!