Sharon Jaynes who has written several books and is international speaker. In
A Sudden Glory,
Sharon
challenges the readers with an idea that we can see God's Glory in everything and that our longing to be in his presence can be fulfilled.
On a daily basis, the grind of life can leave us feeling empty. Taking care of the kids, going to work, driving the kids around, paying bills, cooking dinners, working out, returning phone calls, checking email and meeting the needs of others can leave you feeling down, empty and unfulfilled. More than the daily grind, we lose can sigh of the Glory of God because we have a hard time experiencing him and finding him in the everyday situations.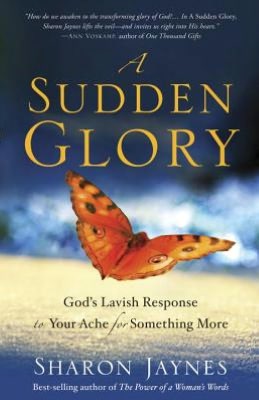 Have you been pursuing a relationship
with God for years, but always feel like your a cat chasing your tail?
Are you going in circles? Instead of asking God what he wants from us, we should ask what does he want for us?
I love this!
She also saws another powerful statement. " God will make himself know, if you live and move and have your being in him." That was so powerful to me.. How many times am I aching for the glory of God, but going my own way?? That statement hit me!
Another thing that hit me in the head was my own personal lack of obedience. How often do we act as if we have all the time in the world to do whatever we want and eventually we will be obedient to what God is calling us to do?? That's a good one huh?
You will love how authentic Sharon is in this book and it will make you feel at home. She writes this book so well and make the reader see how you can find the glory of God in obedience, in the every day pitfall and in the glimpses of Heaven. We need to be able to look beyond the situation and find that God will satisfy our ache. He will give us something beyond the instant gratification and it will be much more glorious.
If you are looking for God in the every day, this scripture based book will help you find the glory of God!
I received this book free from the publisher. The oponions expressed our my own and I was not required to write a positive review.